Global Peace Index
Global Peace Index (GPI) measures the relative position of nations' and regions' peacefulness. The GPI ranks 163 independent states and territories (99.7 per cent of the world's population) according to their levels of peacefulness. In the past decade, the GPI has presented trends of increased global violence and less peacefulness.
The GPI is a report produced by the Institute for Economics and Peace (IEP) and developed in consultation with an international panel of peace experts from peace institutes and think tanks with data collected and collated by the Economist Intelligence Unit. The Index was first launched in May 2007, with subsequent reports being released annually. The updated index is released each year at events in London, Washington, DC; and at the United Nations Secretariat in New York.
Methodology 
In assessing peacefulness, the GPI investigates the extent to which countries are involved in ongoing domestic and international conflicts. It also seeks to evaluate the level of harmony or discord within a nation; ten indicators broadly assess what might be described as a safety and security in society. The assertion is that low crime rates, minimal incidences of terrorist acts and violent demonstrations, harmonious relations with neighbouring countries, a stable political scene and a small proportion of the population being internally displaced or refugees can be suggestive of peacefulness.
Positive and Negative Peace 
Johan Galtung, the father of peace studies often refers to the distinction between 'negative peace' and 'positive peace' (e.g. Galtung 1996). Negative peace refers to the absence of violence. When, for example, a ceasefire is enacted, a negative peace will ensue. It is negative because something undesirable stopped happening (e.g. the violence stopped, the oppression ended). Positive peace is filled with positive content such as restoration of relationships, the creation of social systems that serve the needs of the whole population, and the constructive resolution of conflict.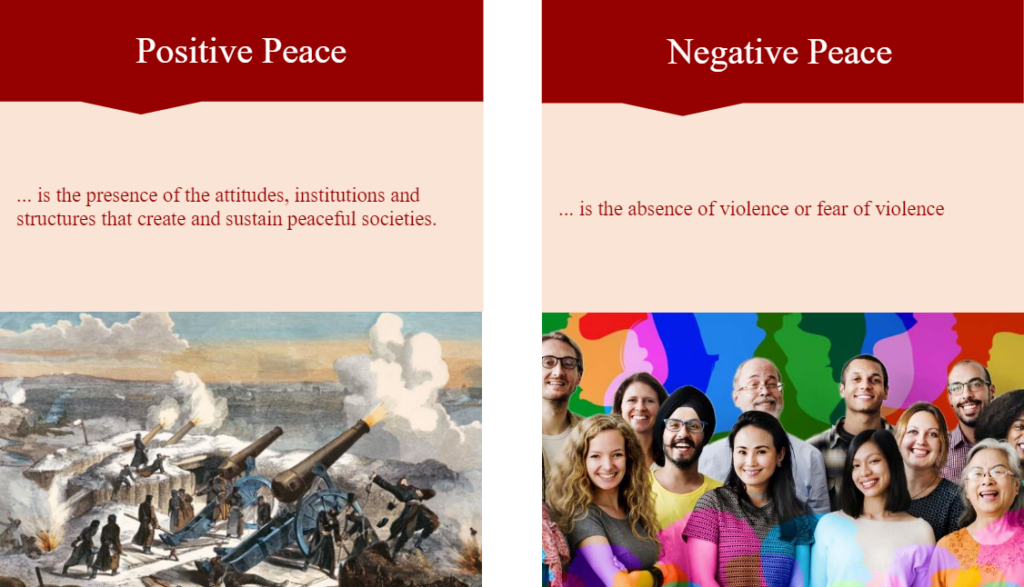 Peace does not mean the total absence of any conflict. It means the absence of violence in all forms and the unfolding of conflict in a constructive way. Peace therefore exists where people are interacting non-violently and are managing their conflict positively – with respectful attention to the legitimate needs and interest of all concerned. 
Parameters of Negative Peace
1. Number and duration of internal conflicts
2. Number of death from external organized conflict 
3. Number of death from internal organized conflict 
4. Number, duration, and role in external conflicts 
5. Intensity of internal conflict 
6. Relations with neighboring countries 
7. Level of perceived criminality in society 
8. Number of refugees 
9. Political instability 
10. Impact of terrorism 
11. Political terror 
12. Number of homicides per 100,000 people 
13. Level of violent crime 
14. Likelihood of violent demonstration 
15. Number of jailed person per 100,000 people 
16. Number of internal security officers and police per 100,000 people 
17. Military expenditure as a percentage of GDP 
18. Number of armed-services personnel per 100,000 
19. Volume of transfers of minor conventional weapons as supplier (exports) per 100,000 people 
20. Volume of transfers of minor conventional weapons as supplier (imports) per 100,000 people 
21. Financial contribution to UN peacekeeping missions 
22. Nuclear and heavy weapons capability 
23. Ease of access to small arms and light weapons
Parameters of Positive Peace