World's largest humanitarian displacement 
Today I am going to contemplate upon the partition of India & Pakistan with you. How ironic that the world's largest humanitarian displacement was never recorded formally for the longest time. The world has ignored it, its been 70 years, the people who died during that time, their souls must be still waiting to get acknowledged by the people of this country who received the news via newspapers or radios then. 
Let me take you back in the history; The time was just perfect, for this partition, the former colonial power, Britain, was broke and exhausted after World War II. When they were taking an internal review of the India situation, they realised they had no avenues left for collecting more money or taxes from India. And India was posing a huge threat to their economy & GDP of entire Europe if the Silk Route or Tourism opened its doors to the world again. On Top of that Northern India had rich natural resources, art & craft, culture, spirituality & religion. 
Keeping all this in their view they announced a deadly partition based upon religion as there was no other means of keeping Indians busy forever. At that time India was a young government & hardly had their own Defense ready yet. Hence when you look back you realise It was a planed move by the British to first & foremost divide India on Religion & on top of that let this blood shed happen to a level which leaves scars forever. They offered no help rather they demobilised their troops who might have otherwise helped to control the horror. While they were demobilised they were not disarmed; So the troops were demobilised officially but armed unofficially & dictated to kill the Hindus & Muslims at their behest. Think of it, it is impossible that people who are busy shifting countries, leaving behind their homes, belongings & loosing touch with friends have the psychological capacity to kill each other. So it is clear about who killed them & who sponsored those killings. In previous estimates 14.5 million thought to have moved from across borders, however the latest research says up to 18 million may have moved, and between 2.3 and 3.2 million may have died in the violence. Research published in 2008 by Bharadwaj, Khwaja, and Atif Mian reached similar conclusions, saying there were 17.8 million migrants and 3.4 million killings. 
Let me educate the people of my country that they wanted to finish the silk route which was a economic lifter of Jammu & Kashmir, it also connected India with Europe. Tourism – United Kingdom finished tourism slowly by ensuring LOC was placed strategically where the most scenic mountains & culture of India could be seen. It was diverse with colours, music & beautiful people. If they decided to partition India in two countries based on religion, why they were not prepared for it ? Were they not aware of the kind of local riots or conflicts as a consequence of this bitter partition where millions were getting displaced. How innocent of the colonial empire to be so unprepared & unplanned. Who is responsible for those people who died because of no protection & a govt. dictate. Who has taken an initiative to even do prayers ( Shanti Paath) for those 3.4 million people who were killed in organised violence of religious hatred.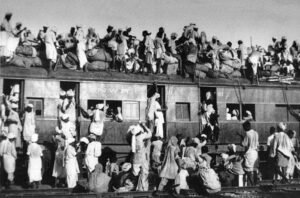 If the Silk Route & Tourism is not the question then why the LOC was drawn there, why not in any other part or direction of Indian Map before partition ? And how foolish of the people of India & Pakistan residing around LOC, in J&K who are still after each other. Are they really ? Or is it still being influenced & organised from London or Europe. I must tell you Kindly study the GDP of London & Europe. It has maximum Indian Tourism. They created such massive issue for India before & during partition, that both partitioned countries India & Pakistan in future, remain not only busy resolving conflict with each other, but also spend the earnings on defense at borders & are left with barely anything in reserves for development. 
I believe that some prestigious International Institutions have started the study & formal recording of events again. It is very important that they finish this research as the entire thing is based upon the memories of eyewitnesses of these 70-year-old mysterious murders. Does a partition like this call for so many murders & masaccare ? You tell me India.  
Four Wars Post Partition in Jammu & Kashmir
WARS four times in Valley are a result of everything I wrote above besides the soured diplomatic relations between India and Pakistan: the Indo-Pakistani War of 1965, the Indo-Pakistan War of 1971, the Kargil War of 1999, besides the Sino-Indian war of October 1962. India has control of 45% of the area named as Jammu, Kashmir Valley, Ladakh and Siachen Glacier; Pakistan controls 35% of the region named as Gilgit–Baltistan and Azad Kashmir. China administers 20% of it named as Aksai Chin and Trans-Karakoram Tract of the state since 1962. 
I urge the Indian's to at least google these names & see the beauty which is there & has been covered by United Kingdom to devastate Kashmir for its selfish reasons & cycle of vendetta. Besides this the eastern region of India also has boundary dispute going on. In the late 19th and early 20th centuries, some boundary agreements were signed between Great Britain, Tibet, Afghanistan and Russia over the northern borders of Kashmir, however China never accepted these agreements. By 1956–57 China completed a military road through the Aksai Chin area without India's permission, & India's belated discovery of this road culminated in the Sino-Indian war of October 1962. China has occupied Aksai Chin since 1962 and, in addition, an adjoining region, the Trans-Karakoram Tract was ceded by Pakistan to China in 1963.
So people of India, wake up not only to the problem of Kashmir, but to the fact that the region has faced FOUR WARS & continues to face TERRORISM. Violence has become a mental disorder, It is hereditary there now. The most rampant disease besides high blood pressure, diabetes now is depression, anxiety & aggression. Cortisol is flowing unconsciously in their psychology & oxytocin has stopped flowing completely. New neuron connections are jammed in their head due to the tough old neuron connections that they have no mental capacity left to choose between right and wrong & good or bad now. They have become numb. We must empathise with them & instead of taking them offensively, we must approach this issue without any prejudice & offer them assistance. 
When the citizens of a country have pre conceived notions, as they do not spend a moment in studying the history from unbiased point of view, how will this problem get resolved. The governments can resolve it via legislature but on ground it has to be accepted by people. The assumption is that it is a Muslim majority state and thus should go to Pakistan. Democracy says something else, is the voice of people boiling down to the last one. Does everyone want to go with Pakistan or become autonomous ? Its just the opposite in Kashmir, a handful of people want azadi & have disrupted the entire valley, instead of taking the issue to the courts they have taken it to streets, homes, colleges, other countries & UN. Why should the other percentage of people bow to someone else's extreme point of view or demand. Kashmiri Pandits were thrown away so when terrorism reaches its peak with its undue demands a plebiscite could be held under extreme pressure, when Kashmiri pandits are not there what kind of  plebiscite would that be ? 
First you restore the broken Kashmir by settling the Kashmiri migrants back in their state / UT now. Let the development happen under the new reorganised bill & then review the situation. This country which has fought over Ram & Rahim should move on to better things in life. People of Jammu & Kashmir need to know, India & Pakistan can not be resolved by people living in any other part of the country or this world. They have to forget the history which is bloody & start fresh, genuinely. For this generation & coming generations let there be a good example set for forgiveness which is a virtue of humanity. No one is right or wrong here, situations arise sometimes things go out of hands, they become worse. Its only people who can correct these historic mistakes & choose to live peacefully. They should channelize their energies towards peace & peaceful resolutions. We do not need warriors anymore at this point, we need peacemakers, who can defend whatever is left & restore it back.
Instead of that we have violent leaders like Shah Feasal who is this generation leader, however talking the language of 1947. He is ready to mislead the youth under his influential past, where he is an inspiration for the youth of valley. I am disappointed that a leader of his stature is reacting in such immature manner & misleading the world with his interviews. I had hopes from him. I thought he would lead towards peace & progress. However I realise he is not an authentic leader, he is someone with good IQ and still has a long way to go when it comes to EQ. It is my prayer to the universe that he never succeeds in his vindictive & poisonous plans for Kashmiri Youth.